What is Dragon Metrics SEO Tool? 
Dragon Metrics is the first global SEO tool platform that is designed for the Asian market.
It has all the essential SEO tools to measure website performance, conduct keyword research, automate the SEO reporting process, link management, content gap research. Nevertheless, automatically get notified of new competitors to rank better than competitors.
Dragon Metrics SEO tool supports over 11 search engines, a multilingual user interface, in-app translations, and many specific per-region features that are essential for perfect search engine optimization (SEO) techniques.
Dragon Metrics SEO Tool Review – Best Features
The following are Dragon Metrics SEO tools important features that you should know:
11 Different Search Engine

100000+ Targeted Location-based SERP Reporting

Multiple Device Support

Keyword Ranking Check Frequency

On-Page SEO optimization

Backlink Management

Competitor Research & Analysis

Content Planning & Auditing

Advanced Reporting

Google Analytics Integration

Google Search Console Integration
Dragon Metrics Pricing Plans – Quick Comparison
Just like every other SEO tool, the Dragon Metrics pricing plan starts at 99$/M. Interestingly, you will get 2 months free when billed annually, actually worth comparing some of the other top SEO tools like Ahrefs & SEMRush.
Dragon Metrics Pricing Comparison vs Ahrefs vs SEMRush

Plans

Dragon Metrics Starter – 99$/M

Ahrefs Lite – $99 /M

SEMRush Pro – $119.95/M

No of Projects

5

5

5

Site Crawl Limit

100,000

10,000

100,000

Keyword Ranking

1,000

500

500
As you can see the most updated* pricing, Dragon Metrics still wins even on the starter side when compared to Ahrefs & SEMRush SEO Tools.
Below is the complete pricing plans for Dragon Metrics, which has plans for every business i.e. from Starters to the Enterprise businesses along with the customized pricing plans as well.
Top 10 Reasons Why You Should Try Dragon Metrics SEO Tool
#1 30 Days Free Trial without Credit Card
Of course, free trials are a part of many SEO tools, but, the real difference isn't just in the extra days, but a free trial without a credit card is absolutely awesome!
Dragon Metrics Free Trials Comparison vs Ahrefs vs SEMRush
Tools
Dragon Metrics 
Ahrefs
SEMRush
Trial Days

30

7

7
Unless you are an SEO pro, you might not get a clear picture of the product, its features, and how to utilize them for your SEO campaign within the 7 days trial period. On the flip side, with a 30-day trial, you might explore a lot & comprehensively get a conclusion as to whether to proceed with the subscription model or not!
Personal Insight: I have missed exploring many such tools only due to the lack of credit cards in my early career. But, I hope SEO tools trials without a credit card are not just awesome, but give everyone in the world an equal opportunity to explore, learn, & grow.
#2 Excellent X-Ray of URLs
X-ray is a powerful & painless test to examine the body and produce its images in detail.
Similarly, the URL X-Ray feature in Dragon metrics SEO tool helps us to get all the knowledge it has about a particular URL, say from basics SEO details to advanced technical SEO at its best.
If you just click on a particular URL using a URL X-ray feature, you will get all the following details:
Response code

Page Authority

Index status

Link depth from root domain

Meta-data (Title & Description – along with character length)

OG details

On-Page SEO audit issues

Recommended optimization

Organic & tracked ranking keywords

Internal & External Links

Google Search Console (if integrated) and

Google Analytics (if integrated)
Must read 👉 "Guide to Export 25,000 rows using GSC API without coding!!!" 
Dragon metrics is the only SEO tool that gives all these information of a URL just in a click and that's too in an elegant dashboard.
#3 Site Audit Not Only Throws Errors – But Also Guide You to Fixing Them
Even some of the best SEO tools in the industry doesn't offer the guide to fix SEO issues!
You doubt me, here is the image from one of the industries best SEO tool's solutions for Alt Text issues compared to Dragon metrics.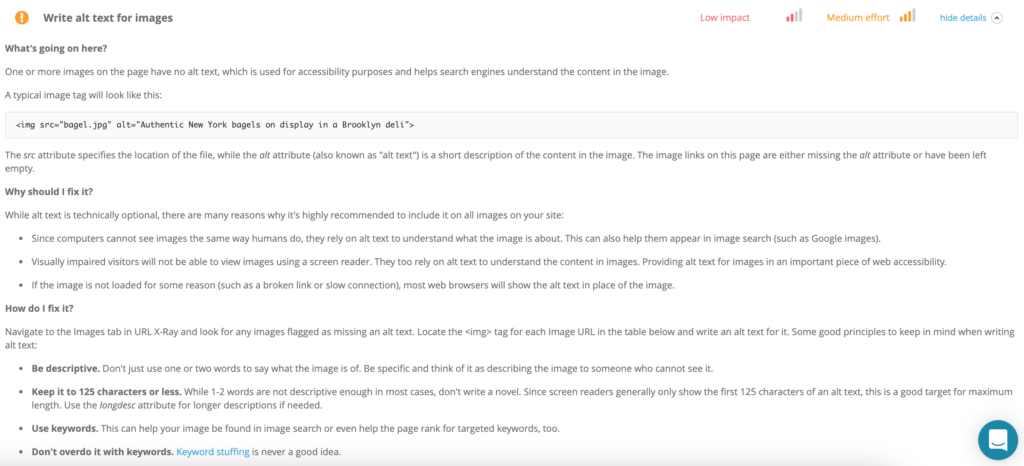 The above images are just an example of how detailed the Alt text image SEO issues fixing guide is by Dragon metrics SEO tool over Ahrefs.
These details help SEO analyst, not only learn what the SEO issue is all about in detail but also, help them fix it effectively without depending on developers.
#4 Exclusive section for Featured Snippet & People Also Ask Optimization (PAA)
As an SEO, we always try our best to rank in featured snippets and people also ask (PAA) sections to attract more traffic. But, finding the queries that help to optimize for PAA isn't that easy, unless you try the Dragon metrics SEO tool.
Yeah, the Dragon metrics tool has a dedicated section under the Content segment for Featured Snippets and PAA optimization. Here you can find exact queries that trigger PAA along with the following details:
What is the exact question triggered for a particular query?

The search terms monthly search volume

Exact answers as shown in Google search along with the URLs
The same details are available for featured snippets as well. You can export to excel for optimization needs.
By using these crucial details, SEOs could make the dream optimization using the Dragon metrics SEO tool.
Must Read  👉 Learn how to use Log File Analysis for SEO
#5 Report Builder Master – PDF/Excel – Whitelabel Reports Made Easy
One of the biggest & recurring tasks for SEOs is creating reports, be it weekly, monthly or quarterly. Some clients expect customized reports too, nothing wrong, but creating them shouldn't take too long.
The report builder master tool in Dragon metrics has several built-in templates for SEO reports. All you need to do is just set up your SEO campaign report and select how your reports should be scheduled (daily, weekly, & monthly). That's it. SEO reports will be delivered to your email as per your preferences.
Uploading your company logo gives an extra option for creating a Whitelabel SEO report, which is the most preferred version for clients.
#6 ROI Forecasting in SEO – Look What's Coming!
What will happen to your traffic and conversions if all your keywords were,
Improved by just 1 position?

How about all your keywords on 1st page?

All page 2 keywords move to page 1?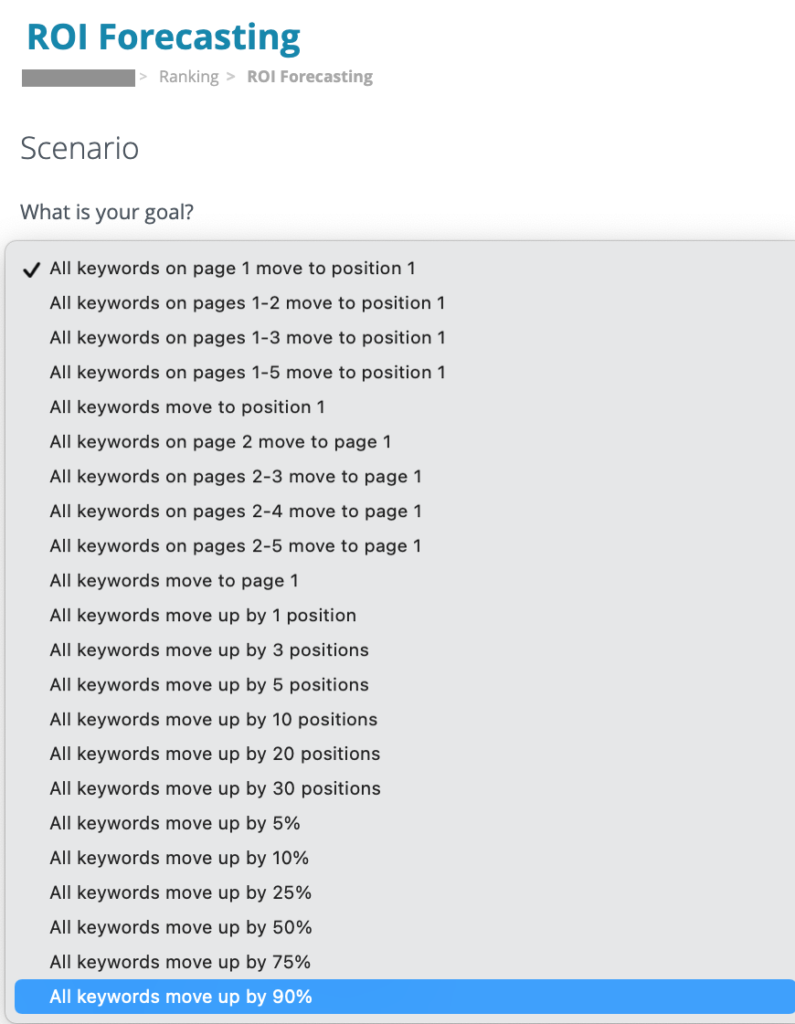 There are several such scenarios to get an SEO forecast on what you can expect in traffic & conversion by improving your keywords positions.

#7 Track Rankings on Every Possible language in the Targeted Country

Dragon metrics rank tracker offers one of the most wanted SEO tools feature to track keyword rankings on multiple languages along with multiple devices (mobile & desktop) simultaneously.
This is a handy feature from Dragon metrics if your website targets multiple languages (irrespective of the country).
#8 Hyperlocal Rank Tracking – 100,000 Locations Worldwide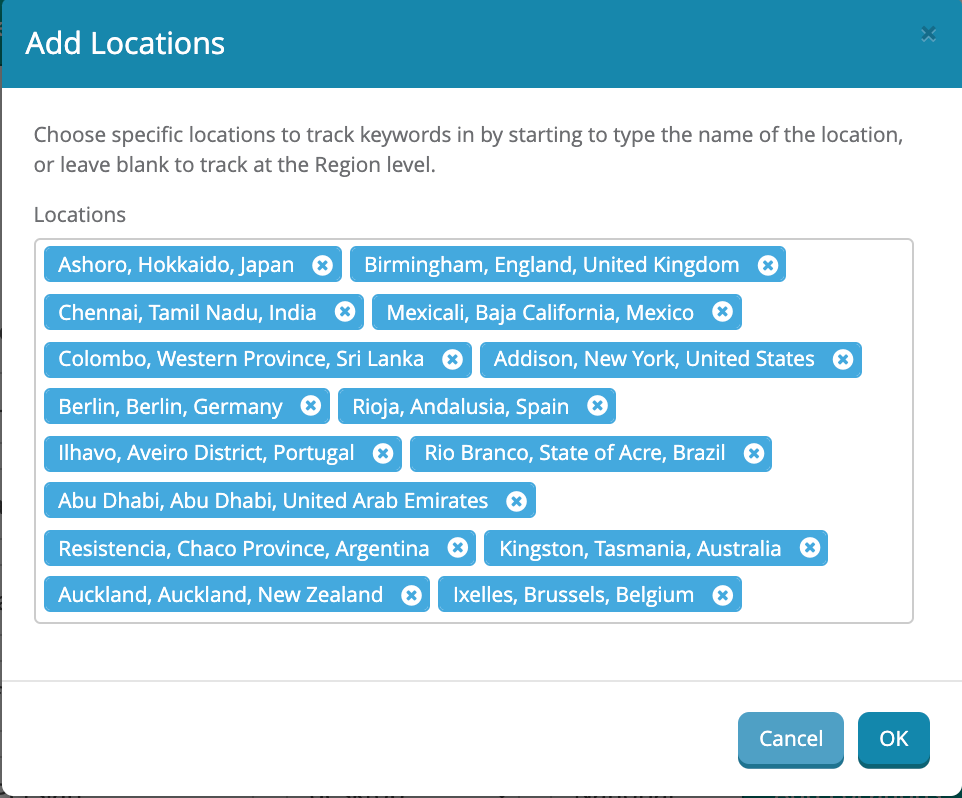 Search results aren't unique across locations within the country. Most SEOs doesn't work for one website one location model either. Our targeted audience will be from multiple locations. Country-level rankings might affect our SEO campaigns.
For example, a keyword ranking 1st position in New York, USA won't be ranking the same in New Jersey!
Hence, rank tracking should be done in hyper locations to identify issues & optimize accordingly.
Dragon metrics cover almost 100000+ hyper locations to track keyword rankings. This is a must-have and game-changer in SEO tools.
#9 Best in Class UI – Very Intuitive 
Many great SEO tools might give a world of features, but, understanding or navigation through the same isn't intuitive. But, that's the case with Dragon metrics. The UI is clean and easy to understand and navigate across various segments.
#10 Only SEO Tool You Need to Target China – Hands Down!

Last but not least! If you want to target a Chinese audience and track SEO campaigns across the Chinese language/region, Dragon metrics is the best SEO tool. You can simultaneously target & track your Chinese SEO campaigns across the following Chinese search engines like 360 Search, Baidu and Sogou.
Dragon Metrics SEO Tool Review & Ratings
Financesonline.com –> 7.6/10
G2.com –> 4.5/5
Cuspera.com –> 4.4/5
Saasworthy.com –> 4.5/5
Subscribing the best SEO software requires plenty of comparisons and consideration to important factors. The Dragon Metrics SEO tool is supported on Web App desktop platforms & Android mobile platforms.
I strongly believe that you will be pleased to try the Dragon metrics for your SEO campaign at least for these 10 reasons. Learn more & optimize well using the Dragon metrics SEO tools.
Simply, it's not just another SEO tool for sure! 
This detailed Dragon Metrics SEO tool review is brought to you by Manikandan N, trying to become the Best SEO Analyst in India.