Google officially announced a new SEO audit tool none other than Lighthouse Extension for Google Chrome. In other words, Google added a new feature to the existing lighthouse tool i.e. SEO. Let us learn more about the new Google SEO audit tool and how to use the Google Lighthouse for SEO audits at its best.
What is Lighthouse Extension for Chrome?
Lighthouse is an open source extension available in chrome web store developed by Google. This extension provides various auditing features include,
Performance,

Progressive Web App,

Accessibility,

Best Practices and

SEO
These above features allowing developers and webmasters to run various audition to improve the overall quality of the website. Google labeled the extension name as Lighthouse because "it keeps you from crashing into the rocks".
New Features in Lighthouse Extension
The previous version of the lighthouse tool has only the performance, progressive web app, and accessibility feature. Google officially added SEO Audit features today for the SEOs and webmasters around the world to conduct basic SEO health checkup for any website for its improvement.
Note: Lighthouse extension runs locally in your Chrome browser. It enables you to run the SEO audits on pages in a staging environment as well as on public pages, live pages, and pages that require authentication.
How to Use Lighthouse Tool for SEO Audit in 2018?
Let us see the brief way to how to use the lighthouse tool for your SEO audits in the following lines.
Interestingly, there are two ways to run the SEO audits using Lighthouse extension.
Can use it through Lighthouse Chrome Extension

Can use it through Chrome Canary (chrome developer tools)
SEO Audit Using Lighthouse Tool through Chrome Extension:
You can easily perform SEO audit through lighthouse extension as follows:
Step 1: Download and Install "Lighthouse" Extension in Google Chrome store.
Step 2: Click the lighthouse icon in the extension bar (change your extension settings to work in the incognito window as well)
Step 3: Select the list of options which you want to perform an audit, ex: SEO and Best Practices and click Ok.
Step 4: Click Generate Report.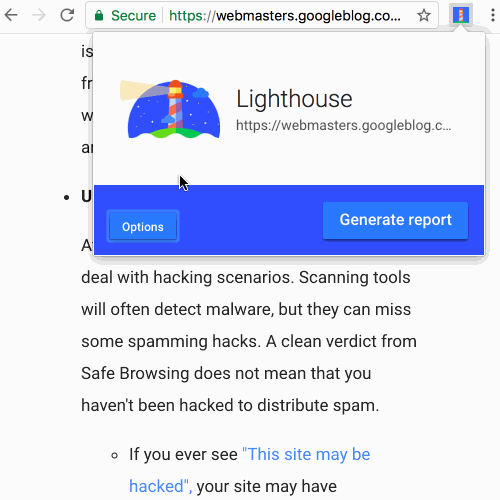 Once the lighthouse tool completes the audit, your report will be opened in a new tab (window).
<<<10 Soft Skills for Successful Digital Marketers in 2018>>>
SEO Audit Using Lighthouse Tool through Chrome Canary:
Step 1: Go to Chrome developer tools
Step 2: Go to "Audit"
Step 3: Click on "Perform an Audit"
Step 4: Tick the "SEO" checkbox for the SEO Audit and click "Run"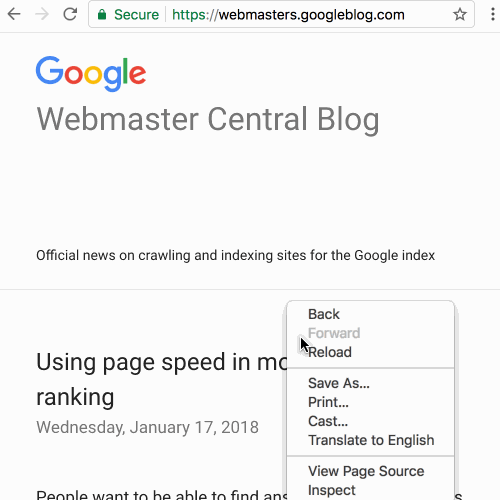 Conclusion:
The lighthouse tool has a basic list of SEO checks, which is already familiar with several 3rd party SEO tools for sure. Using the tool doesn't make any guarantees for the SEO improvements in Google search engine or any other web searches. However, it offers all the initial set of SEO audits which can be used by all skill set of developers, SEOs, and webmasters. Google hoped to bring more features, in-depth audits, and guidance to the lighthouse tool in the future.
For more details, check out Kamila Spodymek's (author at Elephate SEO) quick review on the lighthouse extension here.