Hello, my fellow Search Engine Optimisation aspirants out there. You are landed on one among the top 100 blogs about "how to become an SEO expert" in 2021. Yes, I must say in that tone, as there are really 100's of blogs on the internet regarding how to become a search engine optimization specialist in 2021. However, how I need to make it unique, not just in terms of words or style, I meant the entire concept itself. Actually, my intention is to give the readers a true guide for SEO specialist 2021 with my personal insights. Understanding the basics of how search engine works and fundamentals of SEO is very important, which really helps in becoming an SEO specialist.
Top Reason to Become an SEO Expert in 2021:
You know what, SEO experts 😎 are one among the top paid employees in the world. Yes, seriously 🙄 ! In other words, they call it "Digital Marketers" as well. Every top brand requires an "SEO specialist" to maintain their online presence and advertisement needs. There is ample online marketing job available in the world and they need you – the real SEO Expert. Learn to earn!!
Tips & Tricks in SEO Won't Help Becoming an SEO Specialist:
According to a survey, everyone who learns about SEO does it in the wrong way. Right from the beginning, most SEO analysts start to learn the latest tricks and tips in SEO. Know what, "you cannot start reading about the latest tactics that will help you rank better in the Google". Though they understand the 3 fundamental ranking factors for Google search engine, such as Content, Backlinks, and RankBrain, they don't think deeply about the same. Doing all the tactics might give you some real-time results but the same won't last long as Google is getting smarter every day!!!
4 Steps to Become a Real SEO Specialist in 2021: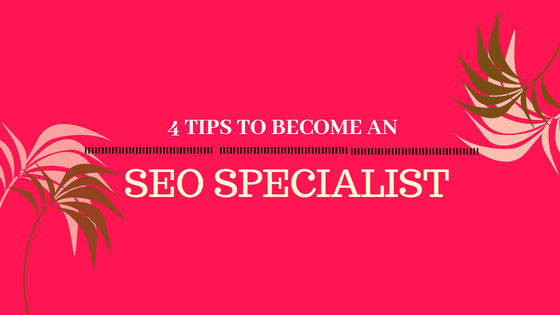 Solve the Problem of Discoverability:
Crawling is the first thing every search engine does before indexing. Hence, your very first approach is to make sure the website is discoverable by the search engines. Make the most of the robots.txt, and HTML & XML sitemaps to help search engines to crawl your website impeccably. By doing so, search engines would discover your website to have in their index.
Solve the Problem of Relevancy:
According to the RankBrain of Google, the search results are based on users query intent and its precise relevancy in the websites. As I said early, there are 100's of blogs in the internet explaining "how to become an SEO expert", but, I have to be unique and relevant to the topic as best as possible to rank higher in the search results. The relevancy is 75% on-page SEO and 25% off-page SEO. Yes, all the technical sides of SEO like title, description, meta-data, schema markups, internal links, images with alt texts, slug, anchor texts, page speed, quality content with necessary keyword density and more come under that 75% of on-page SEO regarding relevancy.
By doing so, you tell the search engines about your website and its relevance to the user search queries (mostly your targeted & LSI keywords).
Solve the Problem of Backlinks (Off-Page):
The backlinks are the 2nd building blocks of SEO. Search engines have made their own recommendations regarding link building for your website. Most of the SEO analysts and webmasters believe that "link building is their work". Of course, it is not! Yes, Google is never happy if someone builds backlinks to their own website. Simple logic is, you cannot vote yourself in the vote of trust. The real fact is, the users of the website will do the off-page or backlink works by sharing your website in their relevant areas.
One shouldn't build backlinks to their website but have to EARN them. The webmasters have to provide quality content, whilst the users will do the backlink works if it is highly useful to them.
Trust me, I never did a single backlink to this post, however, I receive 100's of unique visitors daily from the search engine for this single post.
Solve the Problem of Quality:
The Quality is the prime of the above 3 problems to solve. Yes, quality is an important ranking factor in most of the search engines. The quality has to be maintained in all levels of SEO like, from creating quality content, quality on-page SEO and quality backlink off-page as well.
One can never follow 100% Whitehat SEO techniques all the time, due to various reasons, say competition. However, that doesn't mean you have to try in Blackhat SEO.
Never involve yourself in any of the Black-hat SEO techniques. If you try to fool Google once, you will be a fool 😳 forever. Their algorithms like, Panda, Penguin, Hummingbird, RankBrain and many are getting smarter each and every day. Here is an article on "how to recover a website from Penguin penalty".
Keep an Analytical Mindset 💡 Always:
Even after doing all the basic SEO correctly, you might not see your website in the top of the search results. There exist several reasons for the same. Here, you have to use your brain in an analytical way. Have to analyse everything from first and find where you can improve. Remember, there is not even a single website with 100/100 in terms of overall SEO. There is always a room for improvement.
Use some of the Google free tools like Search Console, Google Analytics and other paid tools like Ahrefs, SEMRush, and few others to find the faults and relevant improvement suggestions at its best. SEO analysts mostly do their competitors analysis and fail to do to their own! Self-analysis is as important as competitors. This is simple logic because, you can't reach the destination, without knowing the destination ➡ !
Think like a Search Engine to Become an SEO Expert in 2021
A true SEO specialist is one who thinks like search engines. If you want to do a better SEO, then you should think like a search engine for sure. Build your own search engine in mind and implement the same in your website. You have to propose your own search algorithm without any mercy or negotiations. Solve the problem of discoverability, quality and relevancy like an army surgical strike. As I always believe, the rules of the SEO changes every now and then. Learn the updates, test it, implement it, try, try and try again, but, never over-optimize it.
Hope you spend quality time reading this article about "how to become a true SEO expert in 2021". Don't mind sharing it with your SEO friends on social media and help them becoming SEO specialists – as the world needs them!