Digital Marketing has become one of the best careers globally, irrespective of their specializations. Plenty of developing countries like India indicates some exponential improvement in the digital world, which offers a huge opportunity for the Digital Marketing job seekers. However, to utilize the opportunities as well as to sustain in the existing job, you must develop some on demand soft skills with ever updating platform. It is highly recommended for every digital marketer to have the following Top 10 Soft Skills to become a Successful Digital Marketer and to overcome daily challenges at its best. Ok, let us walk through the basic top 10 skills to be successful in Digital Marketing in the following lines. 
How can I Become a Digital Marketer without Marketing Degree?
The very first important question in many fresher's minds while thinking about their career in Digital Marketing platform is their "educational background" i.e. "How can I get into Digital Marketing without a marketing degree"? You know what, there isn't any pre-requisite educational background to become a digital marketer, mostly (however, if you have a marketing degree, then it will take to success easily than others). One thing is very sure, until you have certain high commitment & passion about the digital marketing career challenges, you can shine, irrespective of your educational background.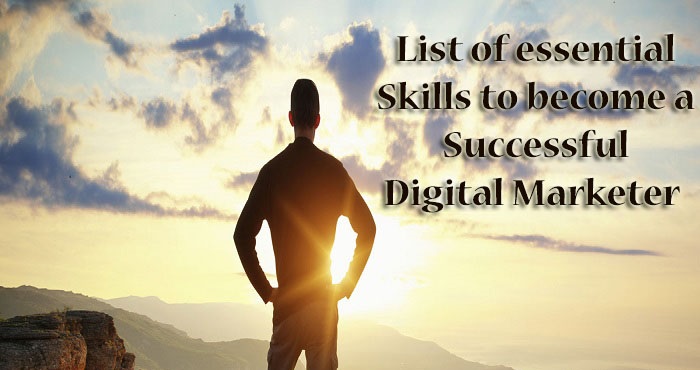 2 Types of Digital Marketing Skill Sets Required:
When it comes to the List of Professional Skills to become a successful digital marketer, basically it is classified into two, i.e. the Digital Marketing Soft Skills and Technical Skills. To some extent the soft skills represents the strong Aptitude and Attitude of a digital marketer, whilst Search Engine Optimization (SEO Skills) belongs to the technical skills sets that are essential to becoming successful in digital marketing challenges.
Top 10 Soft Skills Required for Successful Digital Marketing in 2018
The wait is over. Yes, the following top 10 soft skills are highly helpful for a professional online marketer or the digital marketer.
Desire for Data:
Every digital marketer certainly has their strong zone, however, the digital marketing is an ocean, where the tides of challenges and changes never die. Learning latest trends in digital media will pay you better success in your personal & organizational digital marketing growth. It is also recommended to be a student in the digital marketing field always, which enriches your thirst for knowledge daily, which ultimately helps you learn to earn at its best.
Slow Steady Won't Win Digital Marketing Race!
Yes, it is true to a certain extent! Unless you are a quick learner, it is easy for others to overtake you in the competitive world. The Digital Marketing covers vast topics and you should adapt all the latest techniques & apply as early as possible to gain knowledge or experience either.
Luxury with Technology:
Technology doesn't mean you should have coding skills, however, you must be familiar with the tools or the gadgets you are utilizing for the measurement of your success or experiment in the Digital Marketing indeed.
Effective Speaking Skill:
Communication skill is one amongst the Top 10 Soft Skills for Successful Digital Marketer in the digital world. This is as important because, you have to communicate with your clients or even the internal teams through various means, such as email (text), video & voice and more. The height of your quality communication determines the sound of knowledge or experience either.
Be an All-Rounder in Social Networks:
According to the "Common Sense Media Organization" 2015 survey, it is evident that "U.S. Teens Use an Average of Nine Hours of Media Per Day, Tweens Use Six Hours".  Spending a valuable time in social media other than simple chatting, browsing or watching funny videos on YouTube, will make you enrich your knowledge on the social media platform for sure.
Analyze the Situation – Analyze Everything:
The Analytical Skill is the next priority among the Top 10 Soft Skills to be successful in Digital Marketing career. You have to analyze all the available data to measure the progress of any operation you undergo. Only through valuable analytical skill, you can figure out some crucial as well as the intelligent verdict for the success of your digital marketing challenges.
Top SEO Trends to Watch in 2018
Create the Creativity:
You know what the ultimate success mantra for many successful digital marketers, they don't waste time in making 10 videos for their brand/promotion, and instead they spend quality time in making a single "Viral Video". Yes, creativity matters most in the highly competitive world to be a successful digital marketer, which naturally help you in making stand-out campaigns irrespective of its target & budget.
Try, try, try until You Succeed:
The digital world is huge and there isn't any special or pre-defined route to success easily! Sometimes even the expert advice might suit a few & might not others. Hence, you have to increase the amount of experiment you do daily. Do an experiment yourself and figure out which technique works well for your goals better, than others tips!
Think in 2 Brains & Do in 4 Hands:
I know you are a human, then why 2 brains & 4 hands? Yes, it is not about the Left & Right brain, but all about the "MULTITASKING". Imagine, in the digital world, "you are able to watch videos in one tab, whilst sharing the same on social networks in the other, interestingly, you will respond to your friend's comments there" all in a matter of second! This technique naturally increases your productivity & saves time as well, isn't? Apply the same performance at work or office! Multitasking skill will help a lot to become a successful Digital Marketer.
Conclusion:
In the vibrant environment of digital media, every digital marketer is anticipated to have all the top 10 soft skills to be successful in their daily challenges. Interestingly, it is unmanageable to expect all these lists of top 10 soft skills from a digital marketer, in a real time. However, possessing some high degree over the above mentioned top 10 soft skills for digital marketing will lead your successful career in the same. All the best.
Thanks for sharing this post in your circle!
I hope you made it, if not, don't hesitate to help your friends know "What are the essential Skills to become a Successful Digital Marketer", by sharing this!!!